All new teeth in just 24 hours this month!
We can restore all of your teeth for you!
Enjoy a full smile again with our excellent service!
Chew comfortably without worrying about the heat or the cold!
Smile and be happy without enduring the discomfort of dentures!
Replace missing teeth with dental implants and fixed beautiful teeth in just 24 hours! Currently the most advanced All-on-4 technique helps to recover all teeth. Unlike removable plates or dentures, all the teeth fixed to the implants are stable, it is not necessary to remove them, and heat, cold and taste is felt exactly the same as with natural teeth. Besides, you will be able to eat hard food without worrying that dentures might fall out. This revolutionary, life-changing technology is the most suitable for toothless or those people with many hopeless teeth. What options can these people choose from?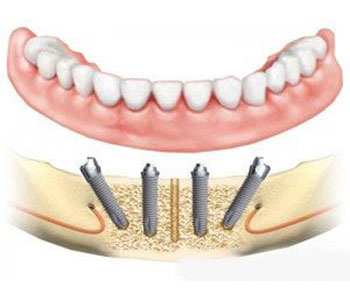 Comparison with other methods
Conventional implants
6-8 and more implants
More expensive
2-4 surgical procedures
Bone augmentation (accretion) is usually required
Prolonged treatment: 3-12 months till start of prosthodontics
All-on-4
Only 4 implants
Lower price in 40-60%
New teeth in 24 hours
No bone augmentation (accretion) required
Only one surgical procedure (teeth are removed and implants are screwed into during the same visit)
Removable dentures
Discomfort
Ineffective chewing
Phonetics problems
Bone loss (due to pressure jaw bone continues to atrophy to soft tissues)
All-on-4 prosthodontics procedure
1. Consultation
During the consultation, the overall jaw shape is evaluated and treatment is planned.
2. Temporary aesthetic plastic denture
If necessary, hopeless teeth and their roots are removed. Implants are screwed into during the same visit. Temporary aesthetic plastic denture for implant treatment period is made and placed within 24 hours, which can be used, if necessary, for 1-2 years.
3. Procedure price
The price of the procedure – € 3497, the cheapest way from glum toothlessness to a happy life with real teeth and big smile!
4. After 7-10 days
Sutures are removed after 7-10 days.
5. Permanent prosthodontics in 6-18 months
Permanent prosthodontics procedure after 6-18 month with metal plastic or ceramic teeth.
It was removed 12 damaged maxillary teeth, screwed 4 implants and after 24 hours fitted temporary denture during one visit.
During one visit it was removed all of the maxillary teeth, screwed 4 implants and beared a temporary prosthesis. The result after 24 hours.
.
Both jaws implantation and prosthetics by All on 4 treatment (temporary prosthesis)
The upper jaw implantation and prosthetics by All on 4 reatment, a temporary prosthesis after 24 hours